Support habitat restoration for salmon, orcas. Give to Whale Scout for 2019.
Whale Scout relies on your generous support to continue our programs and expand to meet the growing need to help endangered Southern Resident orcas. Read on to learn more about what we're up to for 2019 and visit our FundRazr Page contribute and claim some amazing 'perks!'
Looking for Bryan and Vinny Co-host auction? Go to Ebay.com and search, "Bryan and Vinny Whale Scout" starting 11.21.18 at noon Pacific time.
People around the world are now keenly tuned into the plight of Puget Sound's endangered orcas. Last summer a mother orca carried her dead calf for an unprecedented 17 days and over 1,000 miles. This dramatic demonstration of grief and loss touched the hearts of millions. Southern Resident killer whales have struggled for decades due to a lack of prey, primarily Chinook salmon, toxins, and negative vessel interactions. With just 74 whales remaining in this population, people's attention has shifted to what can be done to save them.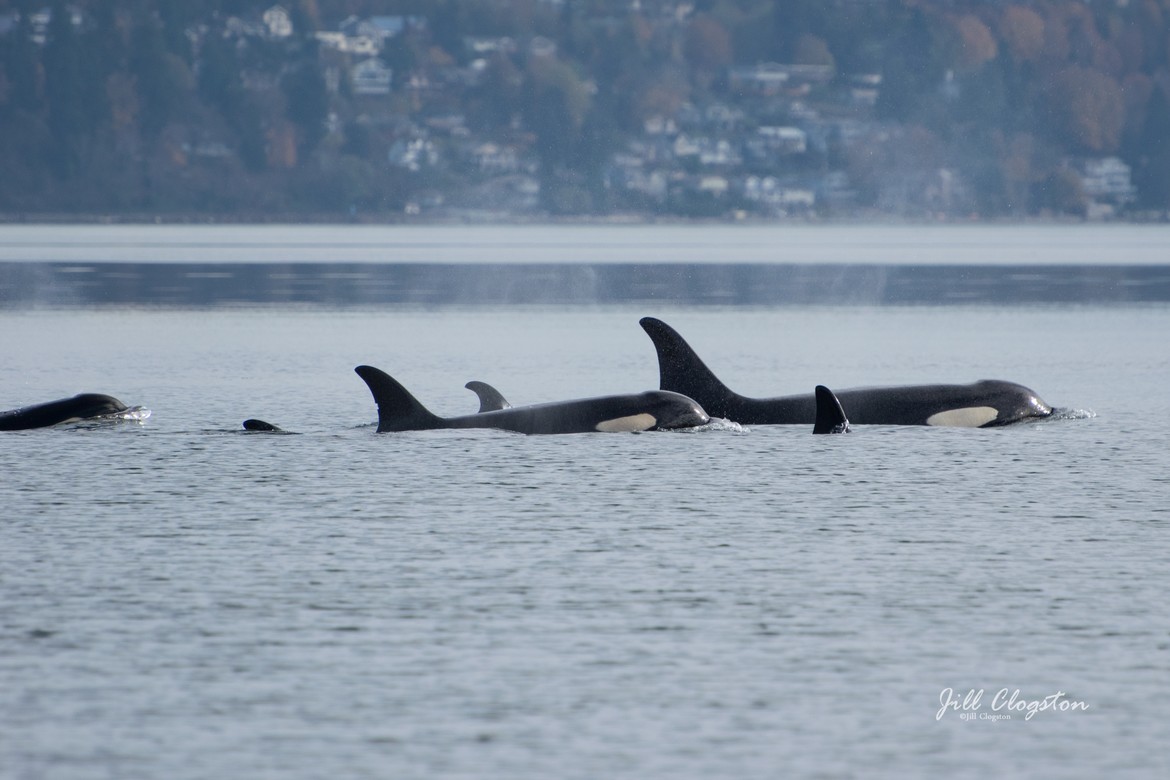 J pod seen from Maury Island, Puget Sound
Since 2013, Whale Scout has offered opportunities for the public to directly get their hands dirty to help. We're now offering thirteen "Whale Scout Helpin' Out" salmon restoration events annually. By planting trees and strengthening the ecosystems that impact our rivers and streams, more salmon have a better chance of growing up to become 'orca food.' This native vegetation also plays a critical role in limiting harmful toxic stormwater from entering waterways. The Nature Conservancy recognized our work with an Urban Tree Canopy Grant in 2018, which is allowing us to tackle crucial projects on private lands in addition to the work we do with our partners.
In the next two years we will:
Plant 1,235 native plants and trees
Spread 70 cubic yards of mulch
Remove 60 cubic yards of invasive plants
Which will:
Restore 300 feet of shoreline along salmon streams on private property
Engage 180 individuals in participation at volunteer restoration events
Provide 1,700 hours of service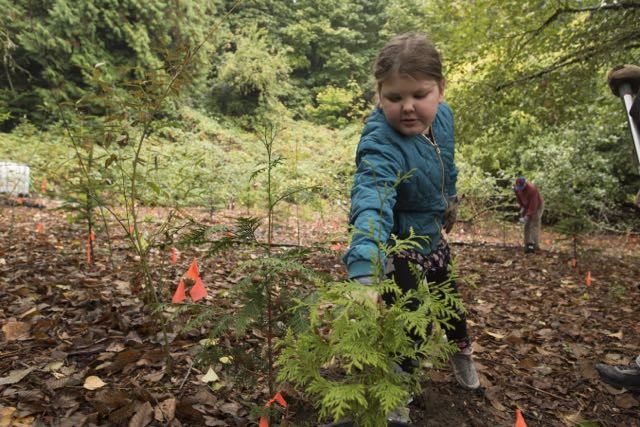 Newly planted native trees at North Creek Forest. Photo: Hannah Letinich, TNC.
We continue to offer more ways for more people to connect with whales. Our growing team of 60 volunteer naturalists facilitates meaningful land-based whale watching experiences with the public throughout Puget Sound and the Salish Sea. We know these experiences can lead to powerful commitments to protect the whales and the salmon they depend upon.
This year and in 2019 we will continue our dedicated work at Governor Inslee's Orca Task Force meetings, advocating for ecosystem-level habitat restoration for salmon and orcas. We'll be persistent in encouraging full funding for salmon recovery programs.
Finally, we're working hard to finish PodMatch, an online tool to connect orcas and salmon at home. PodMatch acts like a dating site, connecting people to events, projects, and organizations which help salmon close to home. Together with our partners, this will allow anyone who cares about the whales to be engaged in direct habitat restoration in salmon-supporting watersheds.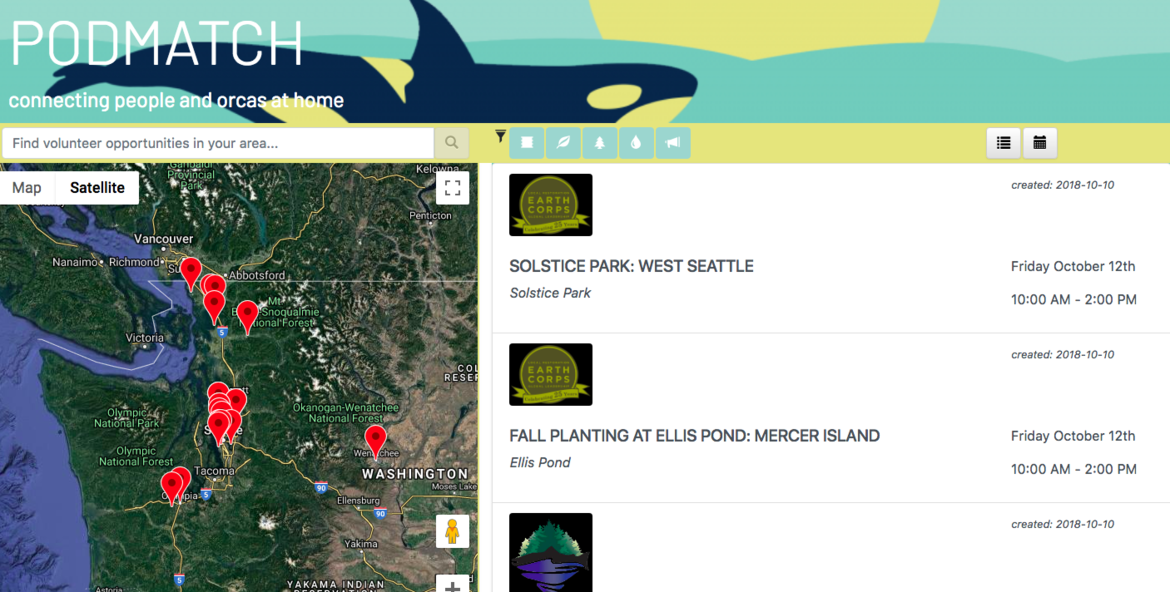 Alpha Demo Version of PodMatch
Your financial contributions are critical to keeping our programs running and expanding to meet the urgent need of our Southern Resident orcas and the dwindling supply of salmon. We run on a lean budget supported almost entirely on volunteer commitment. Please help us purchase the shovels, plants, technology for PodMatch, and volunteer supplies and training materials that are critically needed. Your donation puts boots-on-the-ground where it matters most. Our work directly provides orcas more food by shading salmon streams, cleaning the water, and much more.
Special thanks to all the generous artists, supporters, and volunteers for offering PERKS for your donation. Have something to give? It's not too late! Email info@whalescout.org